Wooden outdoor furniture can be customized with different finishing. At our Thinh Phu factory, there are three main types of finishing for Vietnam outdoor furniture: Oil, PU Stained, and PU Color.
OIL FINISHING: you can pick from various natural wood color oils for your outdoor furniture products or send us your oil color reference.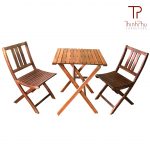 PU STAINED FINISHING: Your wooden furniture will be coated with a PU layer, creating a smooth shinny or matte effect on the surface. With this range, black, white, grey color is also available.

PU COLOR FINISHING: You can choose any color in this range, from red, yellow, blue,…